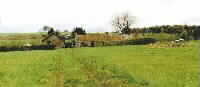 Muir of Turtury 1995, Rothiemay parish.
122. Joseph6 CHALMERS (James5, John4, Alexander3, James2, William1) (#27) was born Muir of Turtory, Rothiemay parish, Banffshire, Scotland 3 June 1867.(171) Joseph died after 1901.(172)
He married Mary Ann ESSLEMONT Upperthird, Auchterless parish, Aberdeenshire, Scotland, 1 February 1887. (Mary Ann ESSLEMONT is #28.) Mary was born Knockleith, Auchterless parish, Aberdeenshire, Scotland 18 July 1864.(173) Mary(174) was the daughter of James ESSLEMONT and Helen BARCLAY.
Joseph participated in the Census(2) event 1901 in Chapel Hill, Forgue parish, Aberdeenshire, Scotland.(175) Very little is acccurately known about him. Jeannie Gordon, my Father's first cousin said in a letter to my brother Jim that he was born in the parish of Forgue also that he was a road foreman in Torphins in his latter years and possibly died there. My father's birth cert. indicates that he was from "Muir of Turtory" in the parish of Rothiemay Banffshire which is very close to Forgue. The various records that I have found bear this out and by a process of elimination no other Joseph Chalmers appears to fit the information. No Joseph born in forgue that could fit. See External Folder, Family Traditions "Jeannie Gordon's Letters". I went to Muir of Turtory croft on the 20 May1995 and again in August 1997. The House was 10 feet by 37 feet in size. This excludes the addition to the house as seen in photo. See photo of house in External Folder Photos Vol. 1, number 139. last edited 1.5.1994
Joseph CHALMERS and Mary Ann ESSLEMONT had the following children:

+ 193 i. Joseph7 CHALMERS was born 15 March 1888. Birth site: Upperthird Cottage.

194 ii. George CHALMERS (#1763) was born Upperthird, Auchterless parish, Aberdeenshire, Scotland 2 March 1890. George died 17 March 1890 Upperthird, Auchterless parish, Aberdeenshire, Scotland, at less than one year of age.

Return to Table of Contents or Index

Go to Next Page

Go to Previous Page