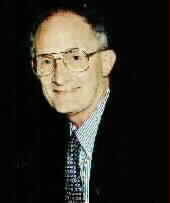 Declan Chalmers taken on cruise in 1999
439. Declan8 CHALMERS (Joseph7, Joseph6, James5, John4, Alexander3, James2, William1) (#2) (still alive).
Historical events during the life of Declan CHALMERS: Britain Declares war on Germany on March 9, 1939; Alexander Solzhenitsyn is expelled from the Soviet Union on February 13, 1974; Labour just gets in with a tiny majority in the second election of the year on November 10, 1974; The Queen opens the first North Sea oil pipe in Scotland on March 11, 1975; Liberals and Labour form a pact to keep labour in power on March 24, 1977; The Tories led by Mrs Thatcher win a landslide victory on September 6, 1983.
Declan CHALMERS and Ann MURPHY had the following children:

+ 536 i.

537 ii. Cecelia CHALMERS (#5) (still alive).

538 iii. Jacinta CHALMERS (#6) (still alive).

539 iv. Declan CHALMERS (#1) (still alive).

Return to Table of Contents or Index

Go to Next Page

Go to Previous Page